Are you finding it difficult to get your subscribers to click your emails? Tried everything you can think of to get your readers interested in your emails? Your not alone, 55% of your readers don't open their emails on a regular basis. "So if you send an email to 1,000 subscribers, you should assume that at least 550 of them won't open or read your message right away. "
I found this article on sumo.com stories, it goes through 'the complete guide to email open rates'.
*Caveat: All audio, video, content and images are the property of their respective owners/authors. If they fail to appear here because they have been moved or removed, you can refer to the source here.
Here's a stat to suck the air out of your email campaign:
55% of your customers don't even read their emails regularly.
So if you send an email to 1,000 subscribers, you should assume that at least 550 of them won't open or read your message right away.
Plus, since the number of emails one person sends and receives per day is expected to reach 117 by 2019, your emails may never get opened at all!
Which means:
Fewer signups for your content upgrades and offers
Less social media sharing/promoting of your message/brand
Meager attendance rates for what should have been your six figure webinar
Fewer click throughs from your sales emails to your sales pages
Fewer sales.
Get to this point and you definitely won't be closing sales or raking in fat stacks of cash like you want.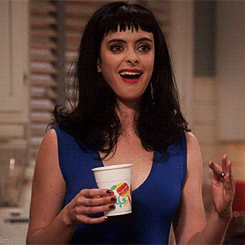 So what can you do to smash open rate records and make sure your messages are read? And how do you know what your open rates should be, anyway?
This guide will explain everything from what's considered a good open rate to what's holding you back from achieving it. I'll give you super-simple changes you can start making right now to boost your open rates for good.
Click here to get your List Building Starter Kit!
How Is Your Open Rate Calculated?
Before you start zoning out like you did in algebra, calculating your open rate is easy. Promise.
Your open rate = the number of emails opened / the number of emails sent – the ones that bounced.
Most email providers crunch these numbers for you, but you should understand the math before optimizing so you're not navigating blindly.
If you're using Aweber, you can find your open rate as a percentage on your main dashboard page:

In ConvertKit, you can find it under the "Broadcasts" tab in the Menu, under each individual broadcast sent:

But those numbers might seem meaningless to you if you don't know what to compare them to. So…
What's Considered A Good Open Rate?
I know it's hard to believe, but there's no right answer (please don't hate me).
But don't worry, I'll show you shortly how to find a good open rate for your brand.
"Good" open rates vary across industries and even within the B2B and B2C realms. You can see this in action with these industry benchmarks: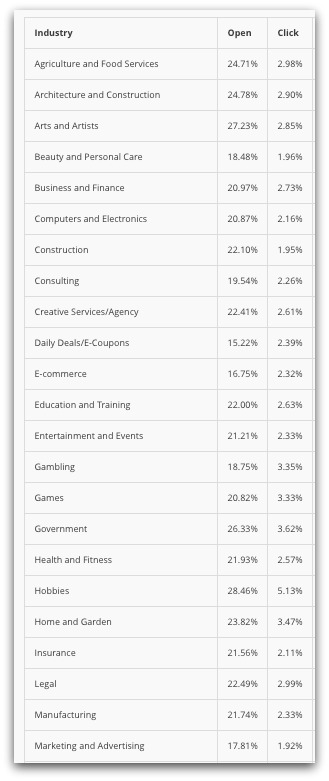 Arts/Artists and Hobbies brands saw open rates as high as 27%+ and 28%+, respectively,
Ecommerce, Marketing, and Vitamin/Supplements spaces only saw open rates in the high teens (16%+, 17%+, and 17%).
B2B open rates remain steady at 30.5% while B2C rates range from 30.5% to 34.9%, which are both higher than the industry stats we just compared.
To make matters even more complicated, here's how companies of different sizes fared:
Small companies with 1-10 employees saw average open rates of 35.3% with click rates averaging 6.9%
Slightly larger brands with 26-200 employees averaged slightly lower opens and click throughs, at 32.3% and 6.3%
For brands with 11-25 employees, open rates reached 32.4% only when at least 31 emails were sent each month. But their highest click through rates (6.7%) happened when 16-30 emails were sent.
Get this: that same report shows that open rates were higher for B2C brands, but B2Bs had better click through rates.
So what the hell are you supposed to do now? ¯\_(ツ)_/¯
Good question. Keep it moving to find out.
Calculate Your Open Rate
Since there's no straightforward benchmark, you have to figure out what your average open rate is and use it to compare how your efforts are panning out.
So here's the formula:
Add up all of your open rates and divide this by the number of emails you're sending to get your average open rate.
If you've sent a lot of emails, just do this with the last 15-20 to get a decent picture. But please, no cherry-picking your best performing emails to skew your true average.
Now that you know what your average open rate is, we want to improve it. Yup, even if you think it's pretty good. After all…
If your clickthrough rate is 3%
…and your conversion rate from a sales page your reader clicks onto is 2%
…and you have 10,000 subscribers
…and you increase your email open rate by 10%
You'd see:
An extra 1,000 subscribers opening your email
At least 30 extra readers clicking through to your sales page
If your product is a $1,000 online course, you'd earn an extra thousand bucks from tweaking a few things.
So let's get into the 12 ways to improve your email open rates to start making more money in your business.
12 Reasons Your Open Rates Aren't as High as They Could Be
Finding your open rate is more difficult than improving it.
Let's tackle the 12 biggest reasons for your piss-poor open rates using my favorite tips, tools, and tricks:
#1: You're Not Whitelisted
SPAM filters are usually a blessing for emails like this: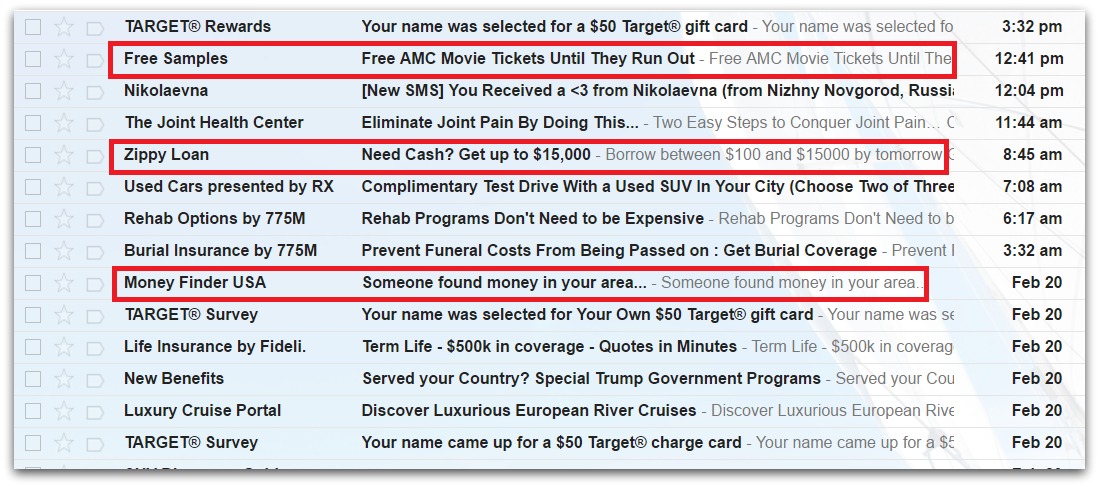 But now they're stronger than ever. Which means that your emails might be ending up in that pesky spam filter, too.
In 2012, "Microsoft boasted that its spam filters were removing all but 3 percent of the junk messages from Hotmail", and Google's spam rate is less than 0.1 percent.
Now Gmail has introduced the Promotions tab, which automatically moves marketing messages for users to a separate tab outside their primary inbox.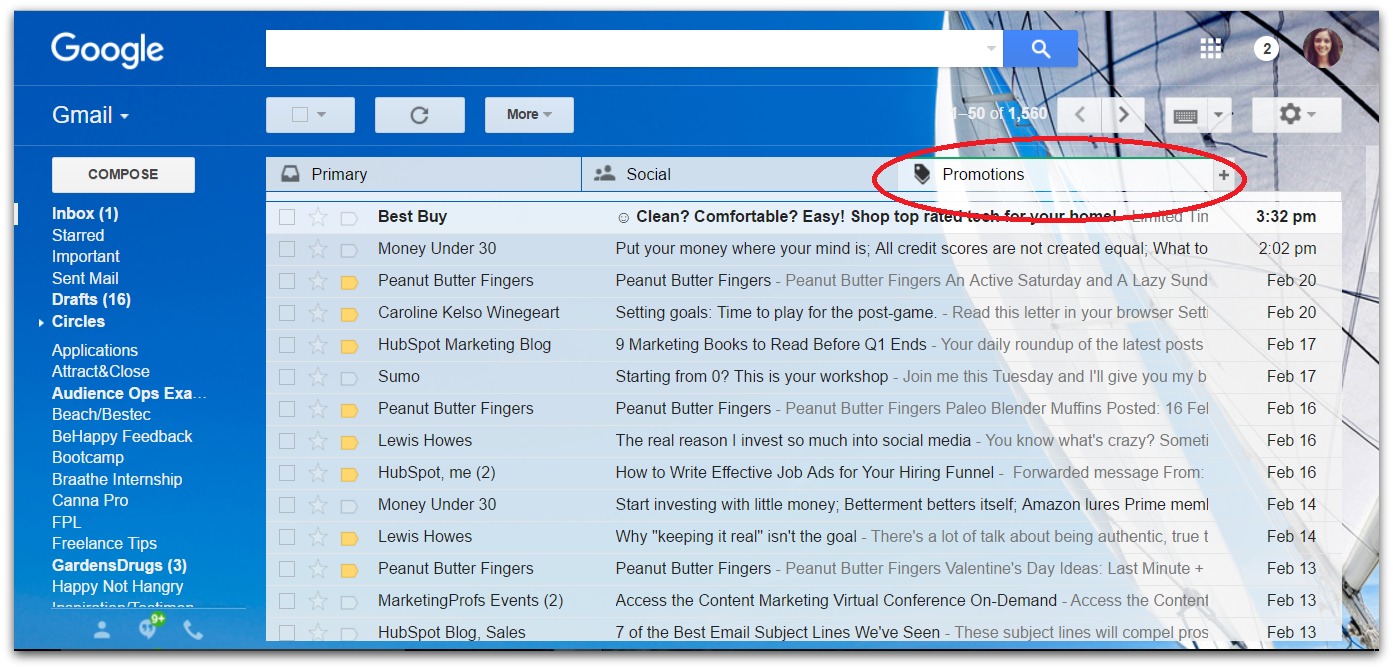 And with filters like this, emails from "unknown senders" (that's you) may be automatically banished to the junk folder, never to be seen by your new subscriber.
And that's not even the worst part.
There's no way for you — or your subscribers — to know this ever happened. After all, how many of us sift through our junk folders on the regular?
That's why you need to ask your new subscribers to whitelist your email address.
Most subscribers won't know what you're even talking about, so you'll need to take the lead and direct them before this situation happens.
You can accomplish this task in two ways:
By adding instructions to your Thank You page. After your visitor opts-in, direct them to a page with directions for how to whitelist your email address and ensure they receive all your fresh content.
Use either the success pop-up feature on your Click Trigger or  List Builder pop-up. In both cases, readers see your whitelist request instantly: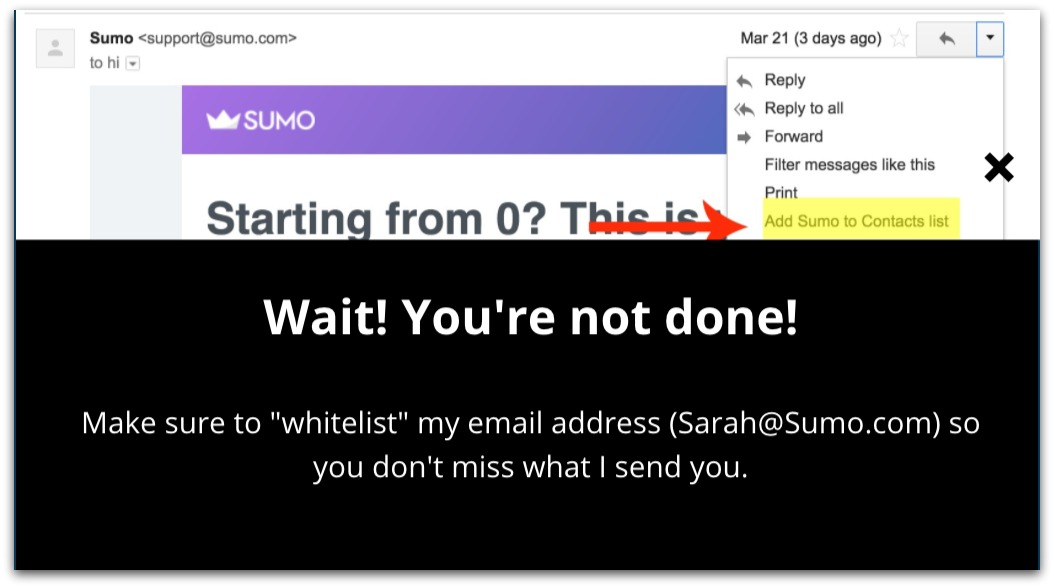 This increases the chances of them seeing your message and taking action. #Win
Once you're whitelisted, you've earned VIP status to your new subscriber's inbox.
#2: Your Email Addresses Are Low-Quality
Your subscriber list may be long, but is it strong?
Collecting sub-par email addresses does zero favors for your open rates.
First, if people sign up for your lists using fake email addresses just so they can grab your freebies, you'll have varying combinations of randomthrowaway1234@gmail.com.
Since your email provider scans the email address as somewhat legit (as you did before reading this), your message will be delivered, but no one will open it.
Another issue: email accounts get played out and become inactive unbeknownst to you.
So if someone changes jobs or decides to upgrade from cutie627@aol.com, they may forget to update their email with you even though you continue to send them.
Finally, if you're collecting email addresses manually –– say if you're hosting an in-person conference –– illegible, handwritten email addresses will become your worst nightmare. You mistake one letter for a number and off goes your email into the virtual abyss.
All three of these situations mess with your open rates. On the bright side, you can fix it.
Just check out your bounce rates. When you search for this figure in your email provider, you'll notice two different kinds of bounce rates:
The soft bounce.
The hard bounce.
A hard bounce indicates the email address is outdated and useless (read: hit delete ASAP).
You'll see hard bounces on email addresses attached to companies or domain names (in the case of people changing jobs), former teenie boppers (cutiepie4lyfe@yahoo.com), or fakes and throwaways (test2@gmail.com).
Soft bounces are a little trickier.
Unlike a hard bounce, the email address is most likely valid even though your message still can't be delivered. The recipient's mailbox could be full or their email provider's server may have been down.
Most email providers give you the option of re-sending the emails at a later time when they encounter a soft bounce: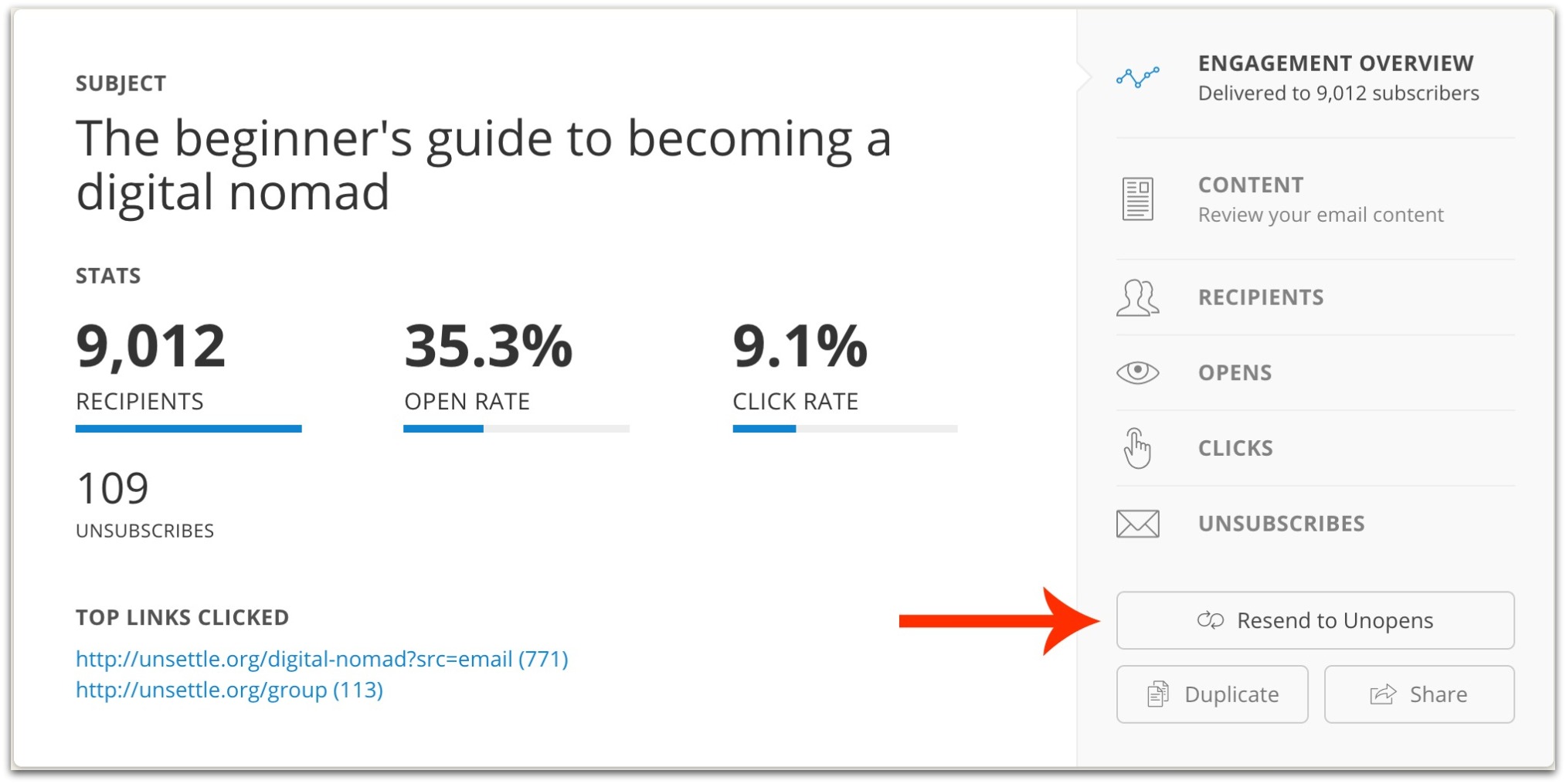 While this is nice in the case of server issues, if an email address is consistently marked as a soft bounce, re-sending it won't help. Eventually it will become flagged as a hard bounce anyway.
Both soft and hard bounces are indicative of the quality of your list. So if you're seeing these pop up more often than not, it's time to cut the ties with those emails for good.
It's better to have a clean list (even if that means you'll have fewer subscribers) targeted specifically to your loyal fans.
Avoid a lot of these problems by having subscribers confirm that they've opted in for your emails using a double opt-in.
#3: Your Emails Aren't Optimized For Mobile
You're not the only one who reads their emails on the porcelain throne.
Over two-thirds of emails are opened on a mobile screen. Optimizing is a must, especially to improve your open rates:
Users open 16.81% of their emails on a tablet
Almost half of all emails (48%) are opened on smartphones
75% of Gmail users check their email on their mobile devices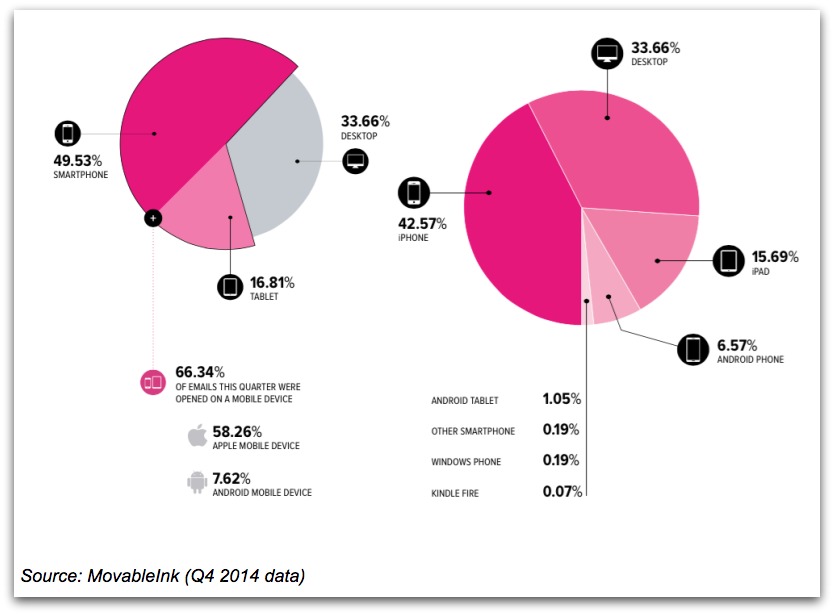 But we're not talking about optimizing your email content. Your subscribers won't get to that part if they're not even opening them.
Instead, we're referring to what your recipient sees before they open your email.
The first item to optimize is probably the last you'd expect: your "from" name.

Whether you use your name or the name of your company as your "from" name, you'll need to consider character length.
In this example, they tested how the name John Jacob Jingleheimer Schmidt fared with each email platform. Here's what they uncovered: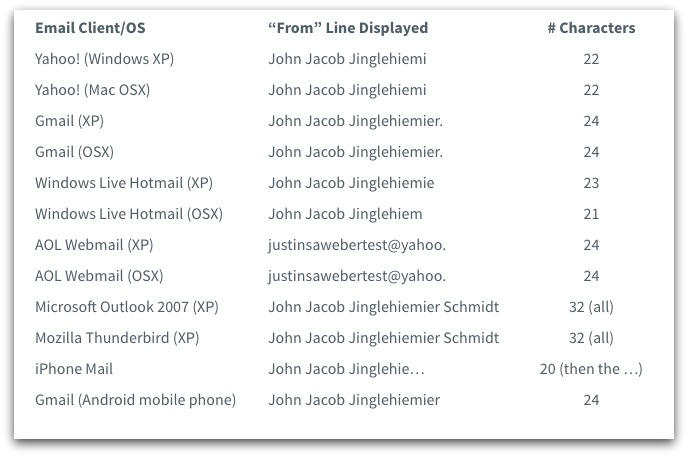 As you can see, mobile screens cut your "from" name off at about 20 characters or less. Shorter "from" names are ideal.
The next area worth your attention is the preheader text.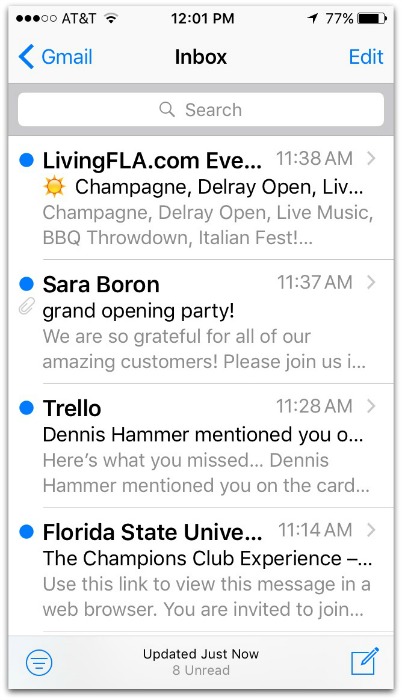 This is the 1 – 2 sentence email preview following the subject line — the perfect place to add a teaser.
Don't be one of the many who fail to take advantage of this amazing lead in.
Use a call to action.
Support your subject line –– don't reiterate it.
Your character count includes your subject line so the longer this is, the less preheader text your recipients see.
Cut to the chase.
Test out different preheader summaries.
You should see a noticeable boost in your open rates when you correct these small mobile issues.
#4: Your Emails Are Coming From the Wrong Name
Should you use your brand's name in the from address of your emails? Or should you send emails out using a name from someone on your team?
The answer depends entirely on the type of business you run.
Are you a solopreneur rocking your own personal brand?
Then your from name should be your personal name, like Marie Forleo, Peter Voogd and Caroline Kelso have done:

Your subscribers will feel as if they're receiving a message from a  friend.
If you're running a company brand, this doesn't make sense.
Subscribers won't recognize your name and they'll trash your email before even opening it.
If we look at the example below, we can see two different from name versions for larger companies.

MarketingProfs is taking advantage of their brand name power by using it as their from name.
Matt from Under30Experiences is a more personalized brand, so he chose a combination of his real name and a shortened version of his biz name.
Make sure your "from" name makes sense for your brand.
#5: You Haven't Trained Your Subscribers
In the same way you gave readers a heads up to whitelist your emails, your new subscribers need to know what they can expect from you.
Give them an idea of how often you'll be reaching out. Bonus points for mentioning the specific day and time you'll send your messages.
This will help them anticipate your emails and prompt them to scan their junk folders. You can do this using a short and sweet welcome email like this one below.

These are welcoming and informative, and your subscribers never have to know they do wonders for your open rates too.
#6: You Aren't Striking While The Iron's Hot
Once you've given your readers the rundown of what to expect, you're ready to start delivering high quality content (if you're not already…).
The most efficient way to do this is by creating an email sequence.
See, when your subscribers first sign up, they're super excited.
They're what we in marketing call "hot leads".  This is when they're the most engaged.
Keep them that way by creating a mind-blowing email sequence.
This powerful step sets the tone for your new relationship with your reader. It establishes trust and builds authority. Check out how Brennan Dunn does this:

Each day, his new readers are greeted with a helpful lesson that gets them one step closer to solving their problem. You'll notice that the next lesson is delivered the very next day to keep his readers interested and moving forward.
By offering your subscribers tons of valuable (yet free) advice at the start, they'll be happy they're getting the help they need right away.
This all but guarantees that your readers open your next emails as soon as they receive them.
If you don't create an automated email follow up sequence, your readers may lose their steam and ignore your future emails, hurting your open rate.
Protip: Use Sumo's FREE autoresponder feature to make it super simple to execute this point.
#7: You're Not Generating Buzz
If there was ever one thing you could learn from Kylie Jenner it would be how to generate buzz around your product.
Through a series of Snapchat videos, she created so much hype around her 2015 lip kit launch that she sold out all three products within one minute and crashed the site she was selling on.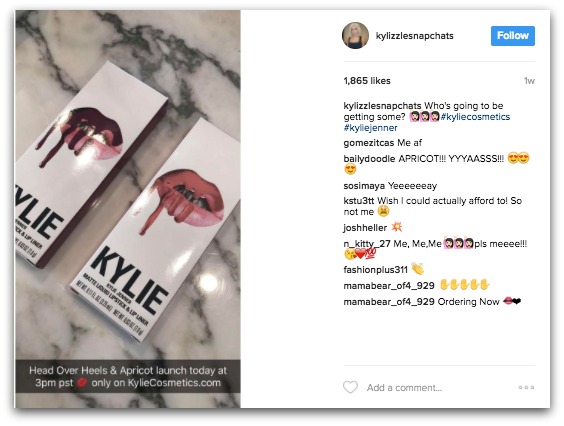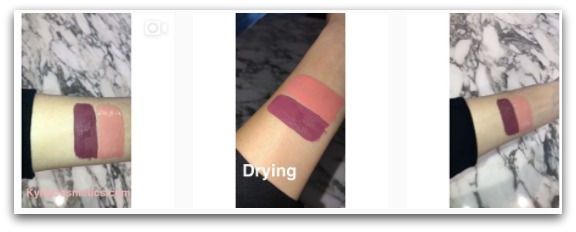 You can create this same type of buzz for your product using email instead.
Entice readers with a sneak peek of what's to come like Jenner does on Snapchat by adding a simple P.S. at the bottom of your emails.

By generating buzz here, you'll have readers excited to open your emails before they're even sent.

And when you give readers a heads up, they'll be more likely to pay attention to what's coming through their inbox.
And that means higher open rates and more engagement.
#8: You're Being Too Formal
As your readers scan their stuffed inbox, they're more likely to open messages from their friends and family first.
But, let's face it, this is not how a friend would email a friend: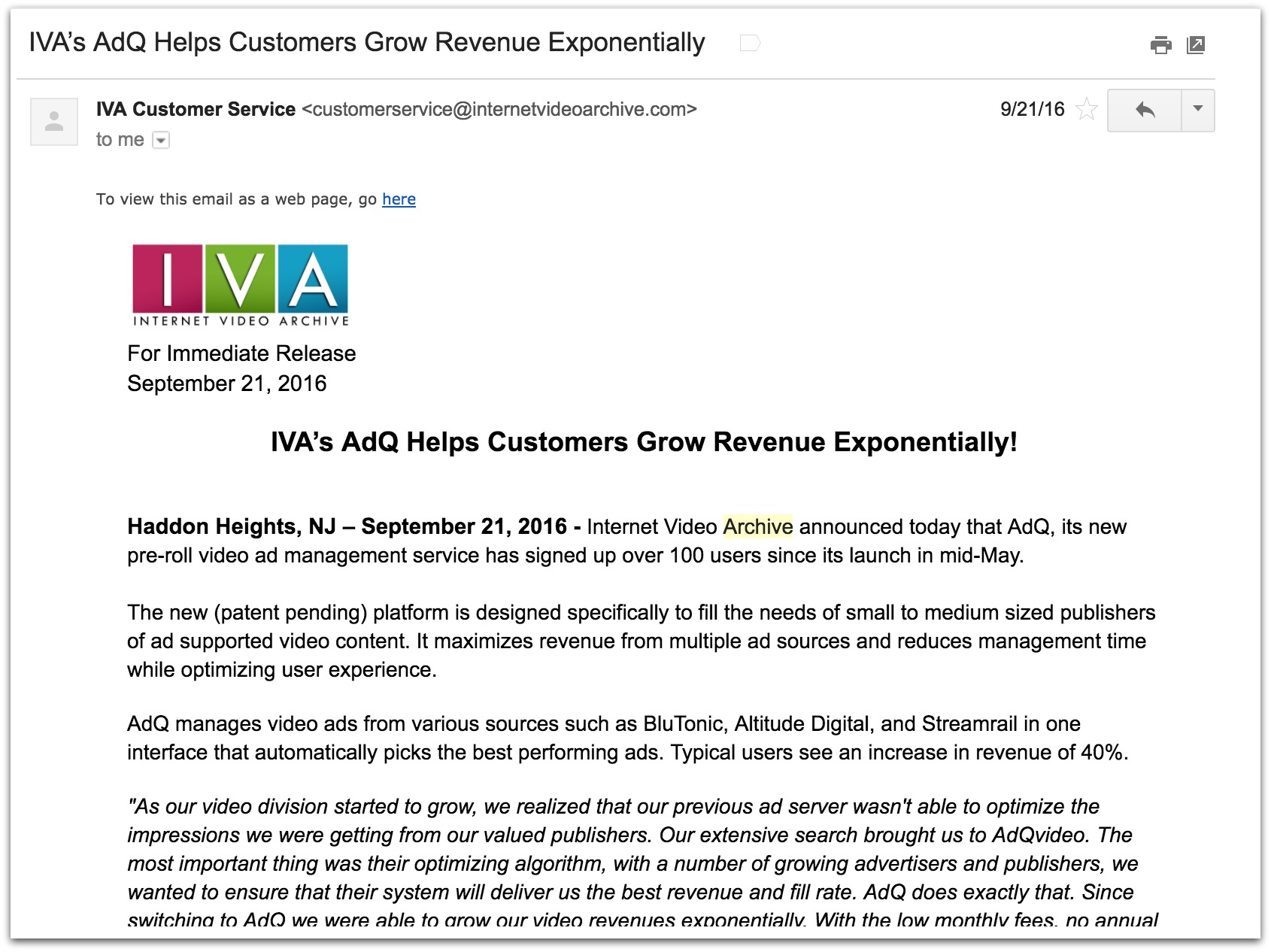 Connect with your subscribers by treating them as if you were having a conversation in-person with them.
Derek Halpern does an amazing job with this, making you feel as if every time you open an email, you're reading one from a friend: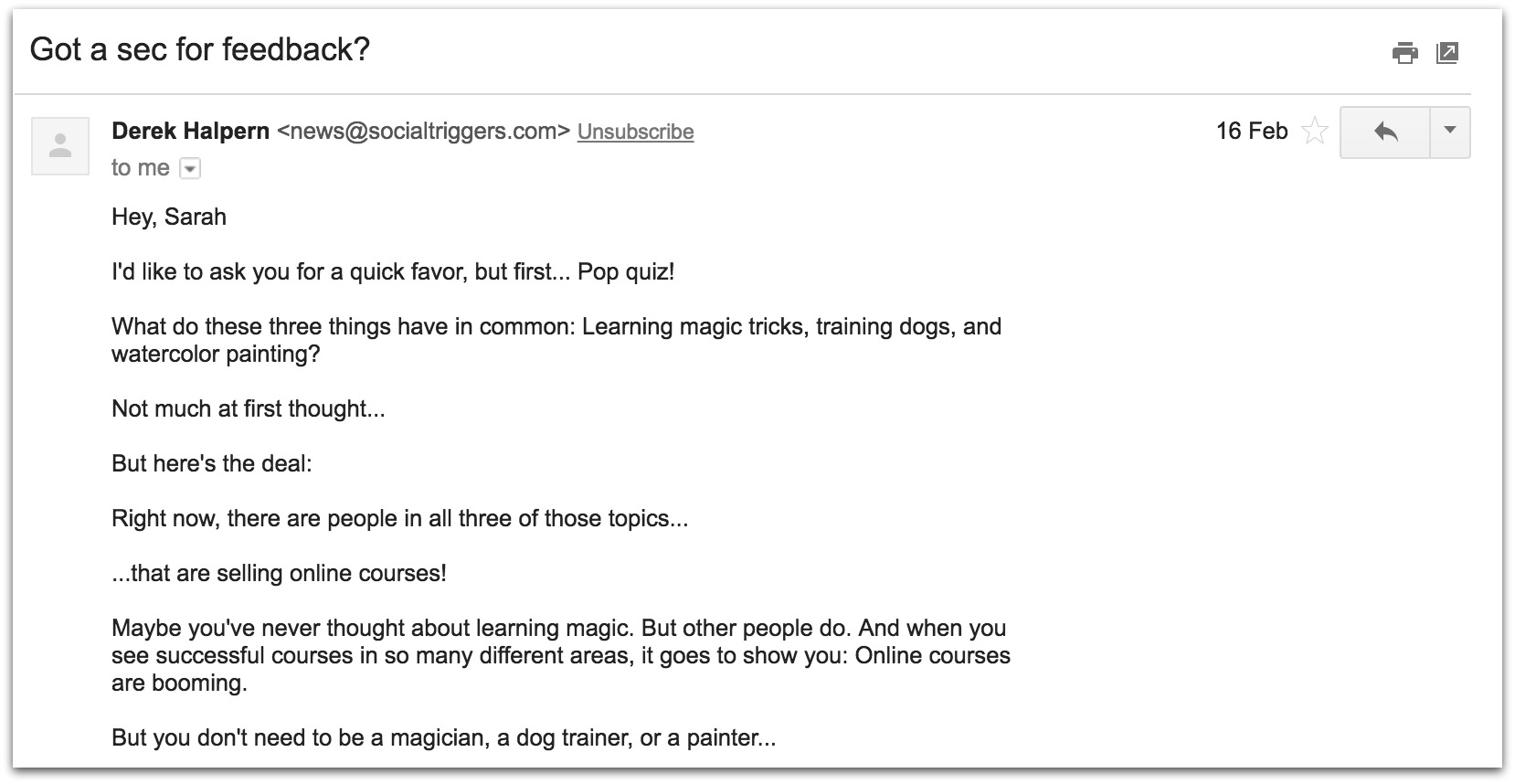 Starting from the subject line itself.
It's perfectly acceptable (and encouraged!) to use acronyms, emoticons, hashtags, popular phrases, and whatever else your audience digs to show them you speak the same language (and you're not a corporate robot).
Just don't force it or try to be someone you're not. Your audience will see right through your phoniness and probably never open your emails again. #KeepIt100
#9: Your Subject Lines Need Work
The best way to find out if your subject lines are sabotaging your open rates is by dissecting and A/B testing them.
Retention Science discovered the ideal spot for subject lines is somewhere between 6 – 10 words; 8 words seems to nab the golden ticket.
Take a look at one of your mobile previews.
Did you stay within the roughly 33 – 35 character limit, or was your subject line cut off?
Was your message properly conveyed before it was shortened?
The answers to these questions will clue you into what to test first. Next, look for any words that could trigger the SPAM filter.
Econsultancy highlights the worst offenders out of a list of 40+ as:
Free
Help
Reminder
% off
Sale ending soon
Deals
While the next batch of words won't trigger a filter, they could be contributing to your low open rates regardless.
Superlatives like "perfect" and "good" decreased open rates by 28% and 20%, respectively, Econsultancy adds.
They also pointed out that "report" and "webinar" dropped rates by 23% and 16%, too.
When you remove these trigger words and you're still bummed by low open rates, take it as a sign to work on the subject lines themselves.
Once you have your newly revamped subject lines, you're ready to A/B test them to determine which ones resonate with your audience.
Although even a catchy subject line won't help if you're sending emails out at the wrong time.
#10: Your Timing Is All Wrong
Did you know that if anyone is going to unsubscribe, 66% of them will do so between 5 and 10 p.m?
So sending your message at the wrong time could do more harm than decrease your open rate — it could literally cost you subscribers.
There are two issues when it comes to timing your emails:
Sending at the right time in general
Sending at the right time for your audience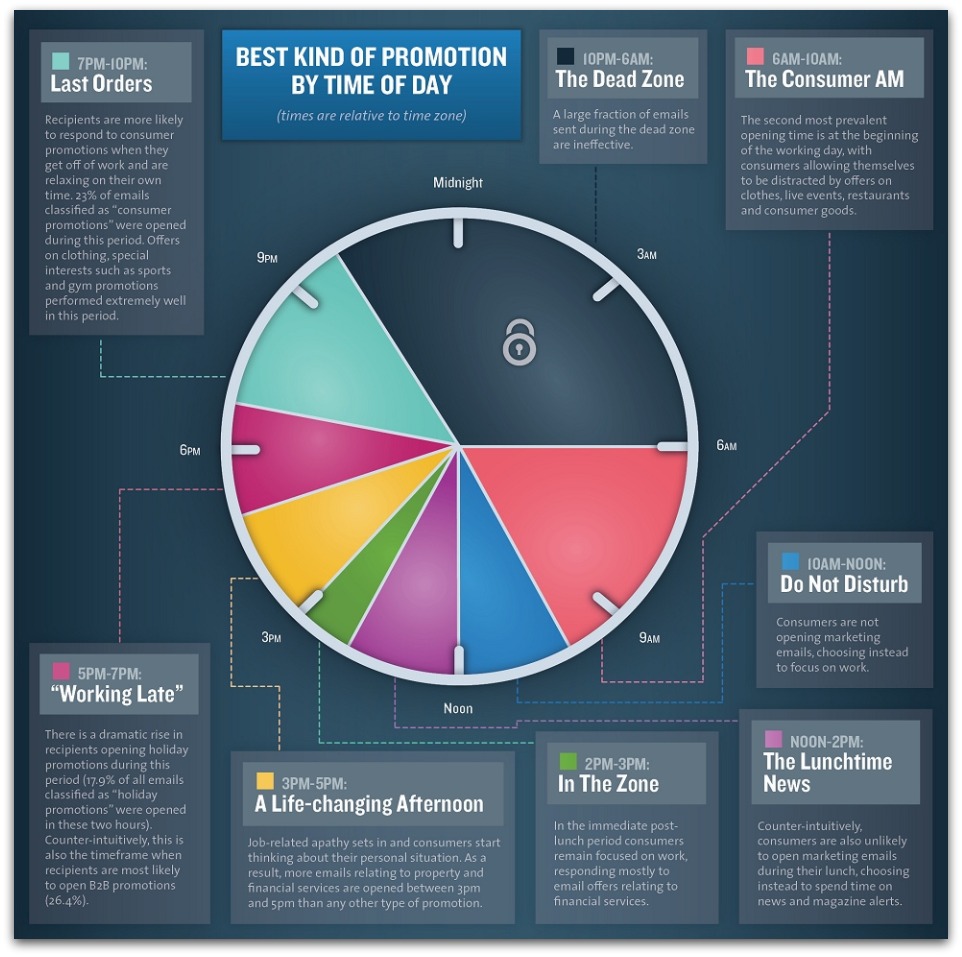 Using this data from KISSmetrics, we know:
6AM – 10AM is a top slot for catching readers' attention when it comes to "clothes, live events, restaurants, and consumer goods"
10AM – 3PM is considered a less than ideal time to send emails, since most folks are busy working or catching up on the news
During the 3PM – 5PM time slot, you'll see more readers opening emails connected to "financial services and property"
From 5PM – 10PM, emails with promotional sales and specials lead to more opens.
Researchers noticed the highest open rates and click through rates during the early morning weekday hours. Weekend mornings saw an even bigger boost.
Test a few times and days of the week to see what works best for your audience until you uncover your sweet spot.
From there, make sure your emails are sent at the right time in general.
It wouldn't make sense to send your subscribers your holiday baking guide in March, or your Walking Dead theories manifesto Sunday night when your fans are busy watching the new episode.
Sending your promotional email for swimsuits in the middle of a hurricane will definitely go unnoticed when there's a state of emergency stealing your thunder.
People won't bother to open these so they'll end up buried under the next wave of emails piling on top.
While scheduling your emails to launch ahead of time is efficient, be careful not to send an email that could be viewed as insensitive to what's going on around your subscribers. That's a surefire way for readers to not open your emails.
#11: You're Sending Your Emails To The Wrong People
Want to boost your open rates by at least 14%?
Segment your list.
Segmenting produced a 14.6% increase in open rates when compared to a non-segmented list.
By sending your message to the right audience (which is probably not your entire list) you'll deliver a highly targeted message that piques their interest. Subscribers are more likely to click through your offer and move further down your funnel.
There are dozens of ways you can segment your list, but four of the best ones to start with include:
Engagement: Use your open rates first. Send one email to readers who opened your email and a separate one to those who didn't. For those who skipped your email, test out a different subject line or preheader text and keep the email inside exactly the same.
Past Interactions: If someone signed up for your productivity hacks guide before, they'll probably be interested in similar topics moving forward.
Buyer's Journey: Your customers are all in different stages of your funnel, so it only makes sense to segment them based off their location. Those starting out may need more information while those deeper in the funnel may be looking for discounts and social proof before they commit to making a purchase.
Buyer Persona: Even if your target audience may be comprised of mostly one gender, your data probably spans a few different age ranges. If that's the case, it'd be in your best interest to send emails targeted to each demographic. Baby Boomers won't want to read the same topics as Millennials.
If you haven't started segmenting your list yet, now is the time to do so.
Start by using Click Triggers or a Welcome Mat to segment your list based on the content upgrade your reader opts into.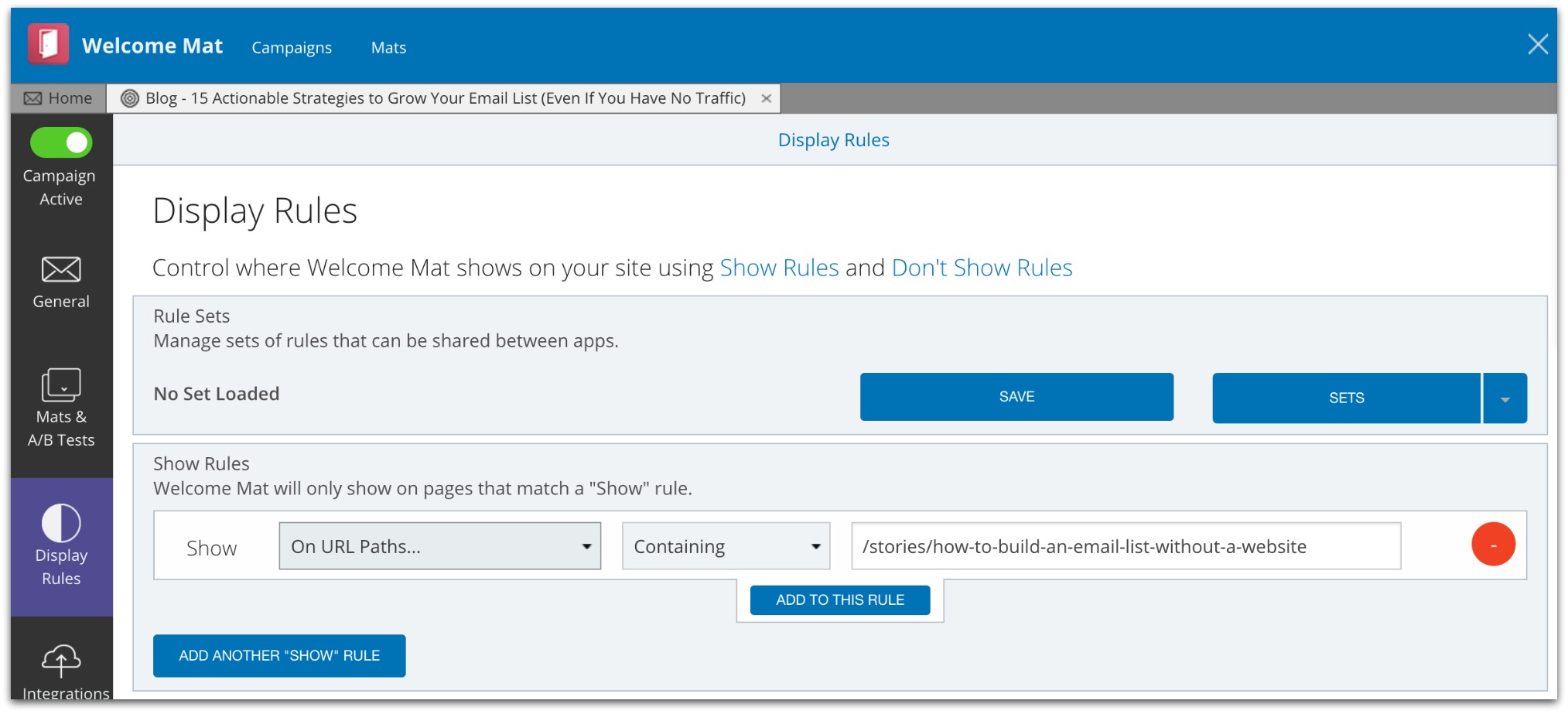 This simple automation takes out a good chunk of the work for you and gives you a highly segmented list.
#12: You're Not Using Double-Opens
Since we know most of your subscribers won't open your emails, it's smart to have a backup plan.
That's where double-opens come in. No, you're not getting the same people to open your emails for a second time — we're not about padding stats here.
Noah Kagan coined the term double-opens and it means you'll re-send your email to subscribers who didn't open it the first time one week after the first one launches.
The only item you'll change in this second email is the subject line (see tip #4 for more help on this).
When Noah tested this, he saw an 11% bump in his open rates for a total of 30%+. In his case, that meant 7,028 more opened emails from 1 minute of work:
Original:

Double-open email:

See why you can't afford to skip this stupidly simple step?
Many email providers have this feature, although I can't guarantee it will be under the same Kagan-trademarked name. ConvertKit calls their feature "Resend to Unopens":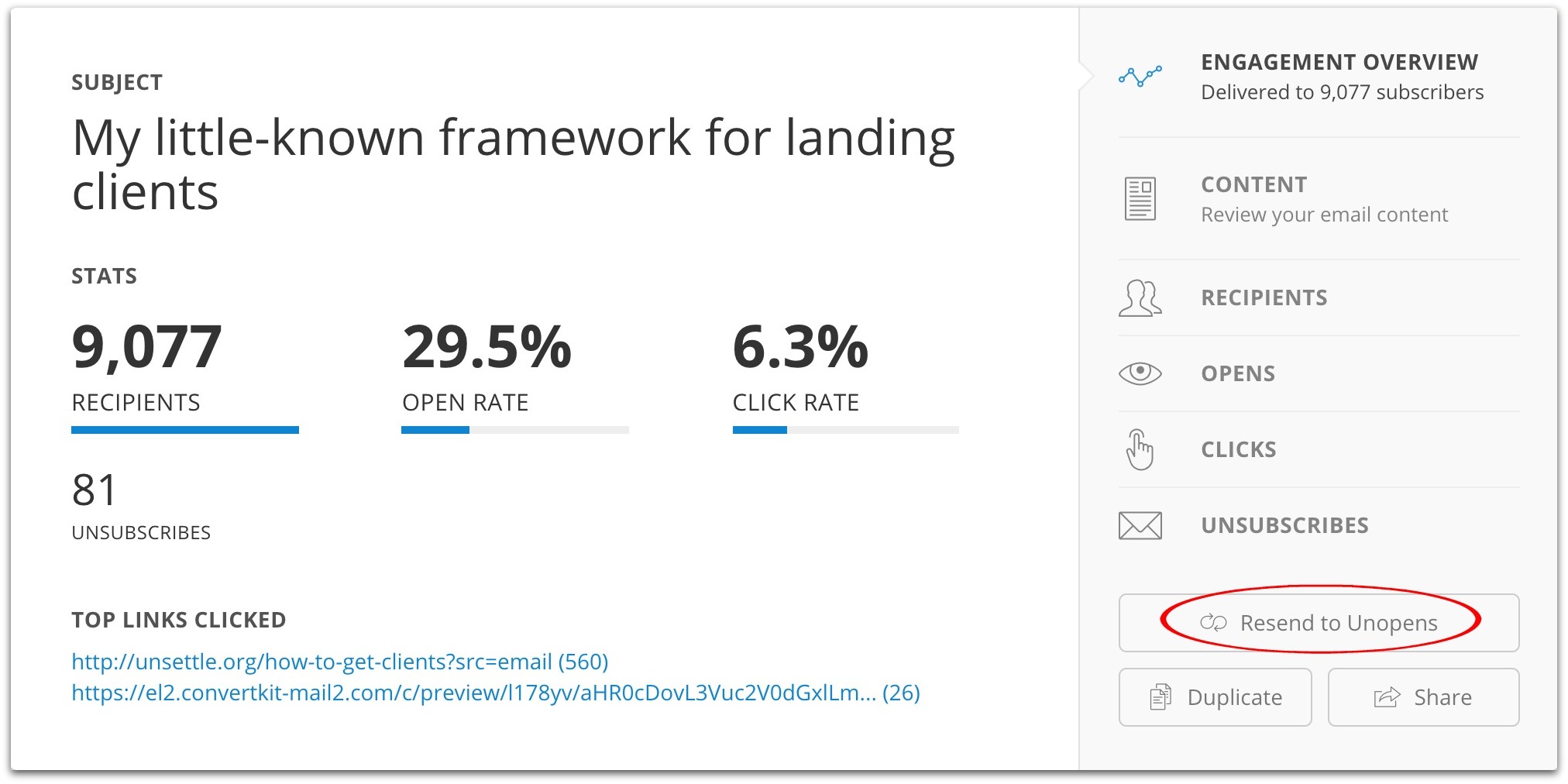 Start using this function right away. Like, now.
Start Increasing Your Open Rates Today
You need to increase your open rates to make more money in your business.
But before you get overwhelmed with what to tackle first…
Start by adding your whitelist instructions to your thank you page so new subscribers aren't lost in the shuffle (and your hard work doesn't go unnoticed).
Then, work on cleaning up and segmenting your subscriber lists so you can deliver the right messages to the right audience — sans fake email addresses.
And whatever you do, don't forget to take advantage of Double-Opens (seriously!).
Your click through rates will skyrocket as you focus more time on your open rates, which is stellar news for your brand as this powerful combination only increases engagement.
So, what do you think? Please share your thoughts in the comments below. If you would like to check the source article or if the respective owners have moved the images displayed in this article, you can see them here.
Looking for a complete guide to email open rates?
#CompleteGuideEmailOpenRates